Toronto 2006
The announcement
From promoter Gary Topp:
Korg Synthesizers, JANDEK
Guitar, NILAN PERERA
String Bass, ROB CLUTTON
Percussion, NICK FRASER
IN PERSON  7pm September 17
The Centre of Gravity, Toronto, Canada
1300 Gerrard Street, just east of Greenwood
doors 6pm
TO BE RECORDED BY CORWOOD INDUSTRIES
Adv tix $27 in Toronto
@ ROTATE THIS, SAM THE RECORD MAN, CIRCUS BOOKS & MUSIC,
and worldwide at www.ticketweb.ca
My impressions
Topp announces that the show is being recorded, in both audio and video, for Corwood, so "no flash photography" please — a relaxation of the usual no-photography-at-all policy?
Jandek takes the stage in his usual garb, except his shirt's a lighter shade than usual. He's looking sharp as always, face an expressionless mask. He tests the mike over his keyboards with the tap of a finger; looks like we'll get some vocals tonight. (After Finland, you never know.)
We knew to expect the Korgs. Smaller model above, full size below, just like at the Manhattan show a year ago. Same backing instruments as Manhattan, too: electric guitar, double bass, drums. (Later, guitarist Nilan Perera switches to acoustic.) Nick Fraser's drums aren't assembled into a drumkit; they stand individually, forming a low semicircle around the drummer. (Does he always set up that way? It calls to mind the one-drum-at-a-time drumming style heard on some of the 1980's LP's.) He's on the floor, no drumstool.
Glances are exchanged; everyone's ready. It's dark out in the audience and the stage is bathed in blue light. For a moment the room is silent.
When the first keyboard notes ring out, my heart sinks a little; I don't much care for the new-agey synth preset Jandek's chosen. Sonically, it doesn't fit. But I'm mollified when he starts playing the upper keyboard too and I hear the same somber church-organ tones we heard in Manhattan, a sound well suited for funereal blues or just for a funeral.
The mix favors the vocals; he doesn't want us to miss a word. The other musicians deploy their improvisers' arsenals of special effects on their instruments during the vocal passages as well as the instrumental interludes; this works better when it's not competing with the vocals. There are some excellent somber, murky, intense instrumental sections, with Jandek officiating at the organ.
Perhaps you've heard Glasgow Monday, aka "The Cell". At that show in early 2005, Jandek introduced a new vocal style: half spoken and half sung, breathy and hushed to match the gentle piano music. In Manhattan last year, and again here tonight, he's adapted that style for use with louder backing music; still spoken/sung, but lower, more forcefully, changing to a wail or a moan here and there for emphasis. But it doesn't much resemble the "spoken word" records. On Put My Dream on This Planet, he's a man talking to himself whom we accidentally overhear; live, even though he never looks at us, I feel we are being addressed. He's completely mastered this new vocal style; the text was delivered with perfect poise and control, as if every inflection were rehearsed.
Musically it's the sequel to Manhattan, but lyrically it's like "The Cell". He's even more direct now about recovering from an illness. He mentions "the sickbed" several times, and describes his travails there. "Afraid to die/ Afraid to live... Chemicals/ I destroy myself and live/ Unexpected revelation... Rising out of your own ruin... Germ warfare/ kill or be killed/ Story of cellular survival... Something must live on... He destroyed himself/ he continued anew." (Sounds like chemotherapy to me.)
Did you notice the switch from "I" to "he" in those lyrics? He switches like that several more times and it puzzles me, but any doubt that "he" and "I" are the same person are erased when he sings, "He carried his art/ on his bones/ skin stretched over/ apparel hanging/ stick of a man..." But why the different pronouns?
The division between "he" and "I" emerges as the dominant theme of the evening: "He sprawled about the bed at night/ waiting for the dawn/ At times I watched him/ Was he really me?... He spoke, I listened/ He moved, I watched." As this split emerges, "I" is determined to take charge: "I decided to make him/ do what I wanted/ I grew tired of the years of regret... The moment had simply arrived/ Bursting through all the blockades/ The whoosh of a torrent... I took responsibility/ He was mine..."
"I" wants to take control of his own life by controlling "he", but "he" doesn't always fall in line. "Why can't I just kill him?" asks "I". "I crucify the thing he was/ I let him suffer/ He died for me" -- the double meaning here, referencing Christ, is unmistakable. (Later, too, there is a line comparing recovery from illness to rising from the dead.)
In bed, our hero waxes metaphysical: "The sensation of mathematics/ His thoughts took on an abstract isolation/ They resembled geometric lines..." But then, when he feels well enough, he returns to the everyday world: "I walked for hours/ navigating the city." He sees people, buildings, cement, fire hydrants. He witnesses "the march of sex." "I" even complains that "He forgot me in the panorama."
The show lasted over 90 minutes — Jandek had a lot to tell us. This was not stream of consciousness, but a carefully structured tale, with its back-and-forth between indoor and outdoor, city and nature, death and resurrection.
So, this was the third in Jandek's series of unified evening-length lyrical presentations, after "The Cell" and whatever the Manhattan suite was called ("Depression", perhaps). He seemed to draw on and contrast the darkness of the latter with the hope and peacefulness of the former, all in a single work. (Perhaps the heaven-and-hell synth settings reflect this.) Another powerful and intriguing set of lyrics, for sure. I wonder if Jandek was making music during the period of illness and recovery that he describes...?
In New York, the heavy downer night (Manhattan) was followed by a night of amped-up catharsis (Brooklyn). So that means I'm ready to rock out in Chicago on Wednesday. No, scratch that — I'm ready for anything.
More info
The audience size was 250. The show was captured by five video cameras. The show will be released on DVD by Corwood as Duality of Self. Some details on the production are in the Internet Movie Database at http://www.imdb.com/title/tt0902294/.
Other accounts
Here are accounts of the show from the Jandek mailing list:
Chicago 2006
Announced
Wednesday, September 20 at the Empty Bottle, as part of the Adventures in Modern Music festival (put on in collaboration with The Wire) where Jandek was supposed to play in 2005 but had to cancel.
Tickets were sold for $15 at the Bottle's site. Nothing has been announced about backing musicians. We were told Jandek would play first, "a special two hour set".
Happened
No announcement was made beforehand. Jandek played electric guitar (fretted) and was joined by Chicagoans Josh Abrams on electric bass and John McEntire on drums. The band walked through the audience to reach the stage. They played for about 80 minutes.
A few songs in, during a break some wag in the audience shouted "Where have you been, man?", which made Jandek smile.
The show was videotaped by a single stationary camera.
Jandek's guitar had the same clean and sharp sound we heard in Austin and Brooklyn, not the heavily effected sound of Glasgow and Newcastle. Driven by the very propulsive rhythm section, this was the hardest rocking Jandek show to date. This was about as exuberant as Jandek gets. The blues-style lyrics tended to be simple and fairly brief, leaving lots of room for improvisation by the trio. The first couplet of the night was "I saw you in your red skirt/ I wonder where you left your shirt." One song was about a man (a coworker?) who "talked about money/ talked about drugs" and bragged about his strip club visits. Several songs were about jail (sequels to "Locked Up" from Newcastle Sunday). He closed with a gentle love song: "I love you/ simple and true."
Musicians
McEntire is a rock drummer known for his work in Tortoise, The Sea and Cake, Bastro, and Gastr del Sol. He owns Soma Electronic Music Studios and has produced records by Stereolab, the Red Krayola, and others.
Abrams has one foot in Chicago's free jazz scene and the other in the post-rock groupings around the Thrill Jockey label. He's usually heard playing double bass. He was a member of The Roots before leaving Philadelphia for Chicago. He has backed Sam Prekop and now plays with Town & Country. He's led a quartet for a CD on Delmark Records and released two solo albums on Lucky Kitchen. His new sample-based solo project Reminder has a CD out on Eastern Developments. Abrams is often heard playing in jazz ensembles with Nicole Mitchell, David Boykin, Matana Roberts, Jeb Bishop, and others.
Other accounts
Here are accounts of the show from the Jandek mailing list:
photos by Chad Radford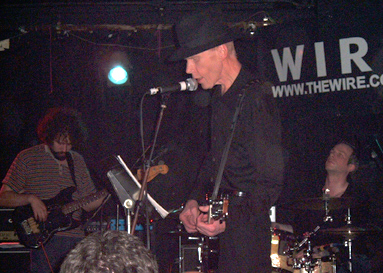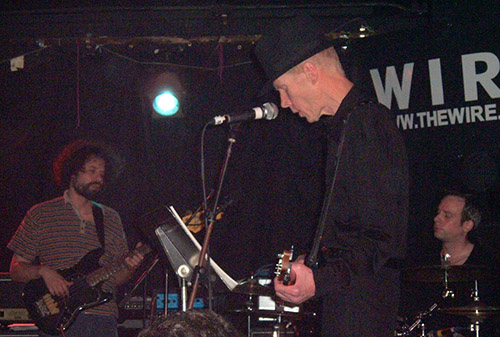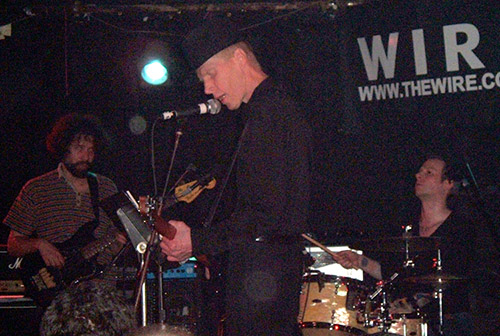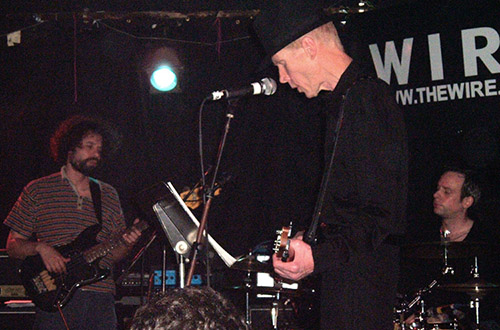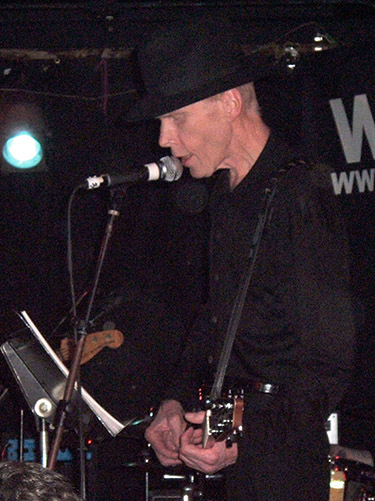 Seattle 2006
Announced
Friday, October 27 at On the Boards, 100 W. Roy St, showtime 7:00pm, no opening act. Tickets were on sale for $20 from the On the Boards site and by phone. The lineup was to be the same as at the Portland show earlier this year.
Happened
As expected, Jandek played electric guitar and sang, with Sam Coomes on bass, Emil Amos on drums, and Liz Harris and Jessica Dennison on backing vocals. The backing vocalists were onstage throughout, rather than only appearing during one song as they did in Portland.
Here are accounts of the show from the Jandek mailing list:
And here are accounts of the show that have appeared elsewhere online: