JANDEK: Press & Links
[ Return to the Jandek main page ]
Reviews of individual albums are included in the discography instead.
Documentary
Paul Fehler and Chad Freidrichs made a feature-length documentary about Jandek, called Jandek on Corwood. They started work in June 2002 and the documentary was completed in May 2003. The documentary has a website, www.jandekoncorwood.com, where you can view a trailer, read press information, find out about upcoming screenings, and order the DVD, which includes significant extras. The documentary premiered at the Leeds International Film Festival on October 11, 2003 and there have been numerous screenings elsewhere since.
Several interviews with the filmmakers have been published:
The Internet Movie Database entry for the movie is at http://www.imdb.com/title/tt0381287/combined.
Here is a list of the songs used in the films. There are a few gaps and question marks; write me if you can clarify.
| time | song | album |
| --- | --- | --- |
| 0:32– 1:57 | Ghost Town by the Sea | 0761 |
| 2:52– 4:30 | Naked in the Afternoon | 0739 |
| 5:02– 9:10 | What Did I Hear | 0741 |
| 13:27–14:55 | You're the Best One | 0740 |
| 15:04–16:35 | Niagra Blues | 0756 |
| 18:42–20:47 | The Beginning | 0766 |
| 21:40–26:04 | They Told Me About You | 0739 |
| 29:02–29:33 | Walking | 0760? |
| 29:34–31:58 | Om | 0757 |
| 32:35–34:48 | Nancy Sings | 0742 |
| 35:02–35:46 | John Plays Drums | 0745 |
| 36:10–37:58 | (half speed) | |
| 38:03–39:09 | (half speed) | |
| 39:32–42:55 | Down in a Mirror | 0742 |
| 43:02–46:11 | Upon the Grandeur | 0758 |
| 46:29–47:04 | Point Judith | 0740 |
| 47:20–47:59 | Governor Rhodes | 0750 |
| 48:00–48:46 | I Passed by the Building | 0753 |
| 48:56–50:10 | Rain in Madison | 0762 |
| 50:15–51:12 | I Need Your Life | 0767 |
| 51:46–53:15 | You Didn't Lie | 0748 |
| 53:47–54:43 | (half speed) | |
| 54:45–58:54 | I'm Ready | 0755 |
| 59:08–59:15 | ??? | |
| 59:16–60:25 | Pending Doom | 0764 |
| 1:00:26–1:02:50 | White Box? | |
| 1:03:31–1:04:05 | The Electric End | 0759 |
| 1:04:46–1:05:20 | The Beginning | 0766 |
| 1:05:52–1:06:25 | I Went Outside | 0767 |
| 1:06:38–1:09:36 | New Town | 0765 |
| 1:11:31–1:15:06 | Only Lover | 0753 |
| 1:22:35–1:28:11 | I Knew You Would Leave | 0740 |
Essentials
Wolk, Douglas. "Mystery Man: The Jandek Story", Providence Phoenix (and various other alternative weeklies), September 1999. Online at http://www.providencephoenix.com/archive/music/99/09/30/JANDEK.html.
Vine, Katy. "Jandek and Me", Texas Monthly, August 1999. A reporter tracks down Jandek and has a beer with him. Much is revealed, and at the same time, very little. Online at http://web.archive.org/web/20041105103137/http://www.texasmonthly.com/mag/1999/aug/jandek.html. The article is also included in full on the Jandek on Corwood DVD.
Chusid, Irwin. Songs in the Key of Z: The Curious Universe of Outsider Music, A Cappella, January 2000. Chusid is a record collector, WFMU DJ, record producer, and author. Book includes a full chapter about Jandek. It contains excerpts from a long letter Jandek wrote Chusid in 1982, as well as a note from 1998. An earlier and substantially shorter version of the chapter was published by WFMU and is available online at http://www.wfmu.org/LCD/22/jandek.html. Chusid doesn't like the music, which he describes as "unashamedly repellent". He mostly plays Jandek for laughs, but nonetheless the article and book contain many apt descriptive passages and choice bits of information, including an account of a phone conversation with Sterling Smith in 1980. Also available is a compilation CD of the same title which includes "They Told Me I Was a Fool", from Ready for the House. The Jandek on Corwood DVD includes a 37 minute interview with Chusid from 2003, conducted by Joshua David Mann and Andrew Warren for WHRB. It mostly covers the same ground as the chapter, but he amplifies on or clarifies a few things. He also reports on some recent interactions with Corwood around the compilation CD. (One odd discrepancy is that in the book he says Jandek told him in 1978 he had ten albums already recorded, but on the radio he says repeatedly that it was thirty.)
Kasley, Ian. Jandek-centered web pages. Contents include digitized versions of as-yet-unreissued LP's plus photographs of Jandek's post office box, Yellow Pages listings, and a building listed as Corwood's address in some business records. Online at http://www.kasley.com/jandek/.
Buyer's guides
Aaron Goldberg has written a piece for Perfect Sound Forever with irreverent reviews of Jandek's first 42 albums, with ratings on a scale from "masterpiece" to "shit". Here are just the ratings:
Also
In addition to the interview with Chusid, the Jandek on Corwood DVD also includes a 28-minute interview with Phil Milstein and a 31-minute interview with Byron Coley. Milstein is the curator of the American Song Poem Archives and wrote the first-ever review of Ready for the House, for Op magazine; see the discography section for extracts from the review. In a brief letter circa 1988 (and also in the 1985 John Trubee interview), Corwood credited this review with inspiring them to continue releasing records; Milstein reads the letter on the air.
Ludo Maas has written a piece in Dutch about Jandek, for the online magazine Kindamuzik. It's online at http://www.kindamuzik.net/article.shtml?id=9075.
Fabio Russo has written an Italian-language Jandek retrospective for the webzine Sentire Ascoltare. The retrospective is online at http://www.sentireascoltare.com/CriticaMusicale/Monografie/jandek.htm, and also on the author's own site at http://digilander.libero.it/flanders1/Jandek.htm
November 5, 2002 was officially declared to be "Jandek day" by the mayor of Houston, as approved by the Houston City Council. Here's the official proclamation (click for full size image):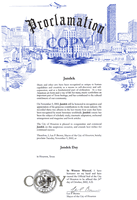 The proclamation was made at the request of an anonymous Jandek fan (who didn't receive official news it had passed until two weeks after the date had passed...!).
Public Radio International, "Studio 360" program, aired a story about Jandek on July 21, 2001, produced by Michael May. It included interview segments with Irwin Chusid, Byron Coley, and Katy Vine; Corwood declined to be interviewed. The program is available online in RealAudio format at http://www.wnyc.org/studio360/show072101.html.
anonymous (credited as "The Sucksters"). "Hit & Run 01.25.01" column on Suck.com website. Includes a few paragraphs on Jandek. Excerpt: "For those unfamiliar with the Jandek phenomenon, he's a Texan... well, 'musician' is one way of putting it... who moans a sort of DSM-IV vers libre, usually while picking at a thoroughly non-tuned guitar, in the same sense that one picks at one's food [...] He's occasionally accused of perpetrating a dilettantish art project, but if you do something on a regular basis for over two decades, are you really a dilettante? In any case, Jandek deserves praise for his total non-interest in fame and willingness to hide behind a pseudonym." Full column online at http://www.suck.com/daily/2001/01/25/.
Marks, Daniel. The beginnings of a Jandek site are up at http://www.geocities.com/alfredggnome/jandek.html, with reviews of four Jandek albums.
Emrich, Brad. Track listings for two Jandek mix tapes. Online at http://geocities.com/bradleybee/jandek_comp.html.
Mirov, Nicholas. Corwood Industries Unofficial Home Page. Contains a scan of the Corwood catalog. Online at http://www.corwood.com/.
anon. Forced Exposure online catalog (http://www.forcedexposure.com/). "Jandek is an obscure Texan who has been privately releasing beautiful documents of fractured, internalized song genius, since the very late 70s. There have been no tours, no interviews, no public appearances but the representation of individualistic creation has never been more perfectly rendered than via the Corwood discography. Utilizing guitars (one at time, both acoustic or electric), voice and percussion, this is music from the ultimate void -- vaguely related to genres like folk, blues and avant-garde but in the end it can only be the sound of Jandek. And there's never been anything else quite like it."
???. article about Kurt Cobain in Spin, October 1993. "A Jandek record is next. On the cover there's a very blurry photo of a man sitting in a lawnchair. 'He's not pretentious,' Cobain says, 'but only pretentious people like his music.'"
Trubee, John, and Rasen, Edward. "Jandek", Spin #???, pg. ???.
Coley, Byron. Spin #???. (Described to me as capsule reviews of all the Jandek LP's to date at the time of publication, but I haven't seen a copy yet.)
Coley, Byron. Spin V6#1 (April 1990), pg. ???. These pieces in Spin are the only ones that I'm aware of that has appeared in anything more commercial than a fanzine. Spin listed Jandek as one of "the ten most interesting musicians of the 1980's", right in there along with Prince and Madonna. The piece was penned by Coley, Spin's (at that time) "underground music" correspondent, but apparently the decision to include Jandek on the list was that of Bob Guccione Jr. himself. There is a scan of the Coley piece online at http://geocities.com/bradleybee/jandek.html.
O'Flaherty, Mike. "An oral history of Jandek as told to Seth Sanders", A Nest of Ninnies #3, pg. 7. "Yeah, I've got about ten Jandek records. They're all boring, but they're cheap as dirt... Maybe 'Jandek' died 23 years ago in 'Nam and they're just old family snapshots on the covers of all his records... Some things are just so entertaining they're painful."
Harvard University's radio station, WHRB, broadcast a Jandek "orgy" on January 20, 21, and 22 of 2003, 10pm-6am. (Their frequency is 95.3 FM, and you can listen online at whrb.org.) They played all of Jandek's LP's and CD's in their entirety, and broadcast interviews with Byron Coley and others. The broadcast was put together by Andrew Warren, Joshua Mann, and Angela Sawyer. WHRB's description follows:
clint eastwood's man with no name was good at walking into any given town and annihilating anyone who got in his way. with every violent action, the man with no name's blurry and blank character became more crisp and defined, and his name, or the need to know it, became less important. in the case of the artist known as jandek, we actually have the benefit of a name to attach to the mystery man who has crafted 32 unique albums. but that is all we have. jandek is largely undefined. what we have are thirty-two unique albums that represent the actions which we use to define the artist known as jandek. the photographs on the covers of these albums serve to define the man nearly as much as the music itself. there have been attempts to pierce the confounding psyche and persona of jandek, but these attempts are flailing hypotheses based on unknowns and cauterized by conjecture; they amount to darts thrown in the dark. jandek forces you, the listener, to form your own characterization and your own meanings, ignoring any preconceived notions because they simply aren't intended to exist. is jandek a pedophilic albino with a slick haircut? possibly. is jandek a musical auteur who deconstructs his own skills to the point of unlistenability? maybe. is jandek even the man we see on the record covers? uncertain.

the jandek orgy proposes not to answer these question definitively, but to provide the listener with 26 hours of the tools necessary to reach their own conclusions based on the evidence of the man's entire creative output. additionally, the 26 hours will feature music that includes the most atonal machinations forged in the intestines of some darkly profound and personal hell as well as the most spritely elegant and orphic footsteps ever trodden on some elysian field.
???. WHRB program guide, January 1991. (WHRB presented a six-hour "orgy" of Jandek's music.) "Although Jandek is a name that's been tossed around for a while, there's very little definite information to give. He got what might have been a big break last winter when he was named one of the most important artists of the last five years by Spin magazine. However, his records are not widely available and he remains elusive as is suggested by the dark, grainy album photo depicting a young god fleeing into anybody's house. The most eloquent and accurate epithet seems to be 'shirtless.' We present his bluesy, druggy, often naked, and always haunting sounds that make many sit and wonder."
Unterberg, Richie. "Jandek", Option magazine, 1986. Reproduced in full on the Jandek on Corwood DVD. "A man sits hunched over a microphone, guitar in hand, gushing forth unresolvable demons from the darkest recesses of his soul... No, these aren't the legendary Robert Johnson sessions of the mid-thirties. This is happening right now in the midst of the technocratic eighties... Sales and airplay are virtually nil, though respect from the underground critics is considerable. But even if these records were wholly ignored, one has the feeling that the man known to the world only as Jandek would be compelled to bare his psyche on vinyl nonetheless... The lyrics are not carefully constructed vignettes or romantic reflections, but have a stream-of-consciousness flavor... He can rant, mumble; sound hostile or tentative; irritate, or evoke sympathy... Initially shy, almost demure in his manner, he's grown increasingly bold and assertive over the years... The enigma of Jandek is that, despite his deep need to communicate, and despite accolades that would put virtually every other indie artist press kit to shame, he is more reluctant to reveal anything about himself than any other 'cult' musical artist... When contacted recently regarding an interview, Corwood replied, 'Good news about the article. Questions etc. can't be arranged. Also, we think your article will be better without them. At least we hope so. Anything else, just ask.'"
Unterberger, Richie. Unknown Legends of Rock 'n' Roll (quoted in: Chusid, Irwin, Songs in the Key of Z, pg. 58). "When it comes to idiot savants with mystique, no one can beat Jandek... who has self-released over two dozen albums featuring spooky, slightly demented stream-of-consciousness rambling and guitar playing which rarely strays from set notes and chords, none of which can pick out anything close to a melody. His voice can range from a hushed whisper to a Janovian primal scream; unsettingly, he hardly ever mines the wide territory between those extremes. Sometimes the guitar is acoustic, like a deathbed Neil Young; sometimes he sounds like the 13-year-old who's just gotten his first electric for his Bar Mitzvah... The albums are issued in plain sleeves with no liner notes, and enigmatic cover photos with all the attention to framing and focus of the do-it-yourself stalls at Woolworth's."
Scaruffi, Piero. The History of Rock Music, Vol. 4 (website). The latter part of Jandek's career is summarized as follows: "The acoustic Twelfth Apostle (1993) ranks with his best, but Graven Image (1994), Glad To Get Away (1994), White Box Requiem (1996), I Woke Up (1997) and New Town (1998) are mainly full of filler. The 16-minute solo-piano title-track from The Beginning (1999) and the a-cappella albums Put My Dream On This Planet (2000) and This Narrow Road (2001) are a welcome change." The page also an Italian-language summary of Jandek's earlier career, plus individual English-language reviews of many discs, all of which are quoted here on the discography page.
Raggett, Ned. All Music Guide (website). Capsule biography. "He's succeeded in his own low-key way at creating a series of distinct, unique artworks while at the same time maintaining a near complete anonymity in terms of the public sphere... It's not quite Thomas Pynchon in terms of the relative fame level, but it does mean whatever attention he's received, when not idly speculating about his identity, gets focused solely on his often-astonishing recordings... while the sheer volume of material makes both investigation and appreciation hard, he's created a series of songs with humor, angst, and cryptic qualities fully intact (and he's not afraid to laugh at himself once or twice either)."
Mirov, Nick. Pitchfork (website). Online review of Summersteps' Jandek tribute compilation CD.
Carew, Anthony J. Online review of Summersteps' Jandek tribute compilation CD.
Brogden, Garry. Vinyl Absolution #20 (October 2002) (website). Article/review on Ready for the House and Interstellar Discussion. Brief quotes included here on discography page.
Ludic Kid (website). Online essay about Jandek. "Occasionally, it's downright great, even when its greatness doesn't spring from anything that could be identified in, much less applied to, any other performer. Part of why I like it is its absolute originality: there just isn't anything else like Jandek anywhere in the world. But mostly, it's because it forces you out of the modes of critical assessment you get locked into with traditional music. It's so alien, so at odds with conventional musical structure, so completely removed from the terminology and theory normally used to critique music, that it makes you open up new venues of expression to describe it. And that's a skill that comes in handy when you go back to the world of 'real' music."
Phillips, Nick. "Mystery White Boy", City Pages, Vol. 22, #1087 (10/3/2001). Article about Jandek. "Jandek's music was like the sound of my life: absolute nothingness, a core numbness, entropy carved out by apathy. Put simply, the record was the most terrifying thing I had ever heard... This wasn't the usual cultivated eccentricity of Half Japanese or their ilk. No, something about it was organic and genuine. My uneasiness told me Jandek was for real." Also discusses This Narrow Road, quoted on discography page here.
Berman, David. "???" in Spex #???. (I have yet to track this one down.)